We are an all walk in clinic and see a high volume of patients. We recommend using our smartphone app to check in virtually and hold your spot in line.
building-exterior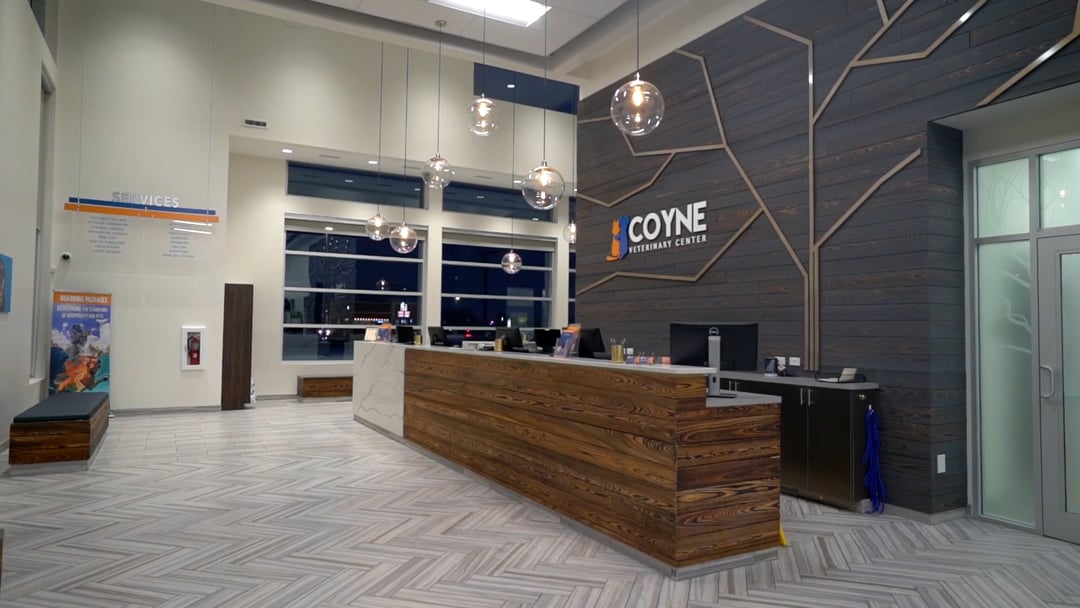 Coyne Veterinary Center:
Crown Point
Extended Hours | Open Weekends | No Appointment Necessary!
Your Crown Point
Veterinarian
We've always believed that if we're able to extend a hand to help an animal in need, we'll do just that. Our 15,000-square foot animal hospital in Crown Point, IN, has been designed with you and your pet in mind, and our veterinarian provides the highest level of services to everyone that walks through our doors.
Our goal is to improve the lives of pets and people throughout our Crown Point community and build trusting relationships to last a lifetime. We utilize only the most advanced and effective technology, from CT scan to laparoscopy, because every single patient deserves the best treatment we can offer. Our veterinarian primarily treats cats and dogs, but we're happy to treat other species, too!
Dr. John Coyne and Sparky
Taking care of pets and pet families
At Coyne Veterinary Center in Crown Point, IN, we're not only proud to offer exceptional nose-to-tail care for your pets. We also want to provide helpful resources for pet owners like you! We invite you to learn more about our wellness care packages, promotions, community involvement, and more.
Our outdoor play yard includes a swimming pool and K9Grass, a durable, drainable, and cleanable synthetic grass surface that is both safe and comfortable for dogs.
If you're interested in taking a tour of our building, we welcome you to visit us any time during regular business hours–we'd be happy to show you around!
Calling all Animal Lovers!
Do you want to be a part of the Coyne Family? We're looking for dedicated animal lovers to work with us!
Please visit our Employment & Externships Opportunities page to find out more about available positions at our Chicagoland and Northwest Indiana locations!